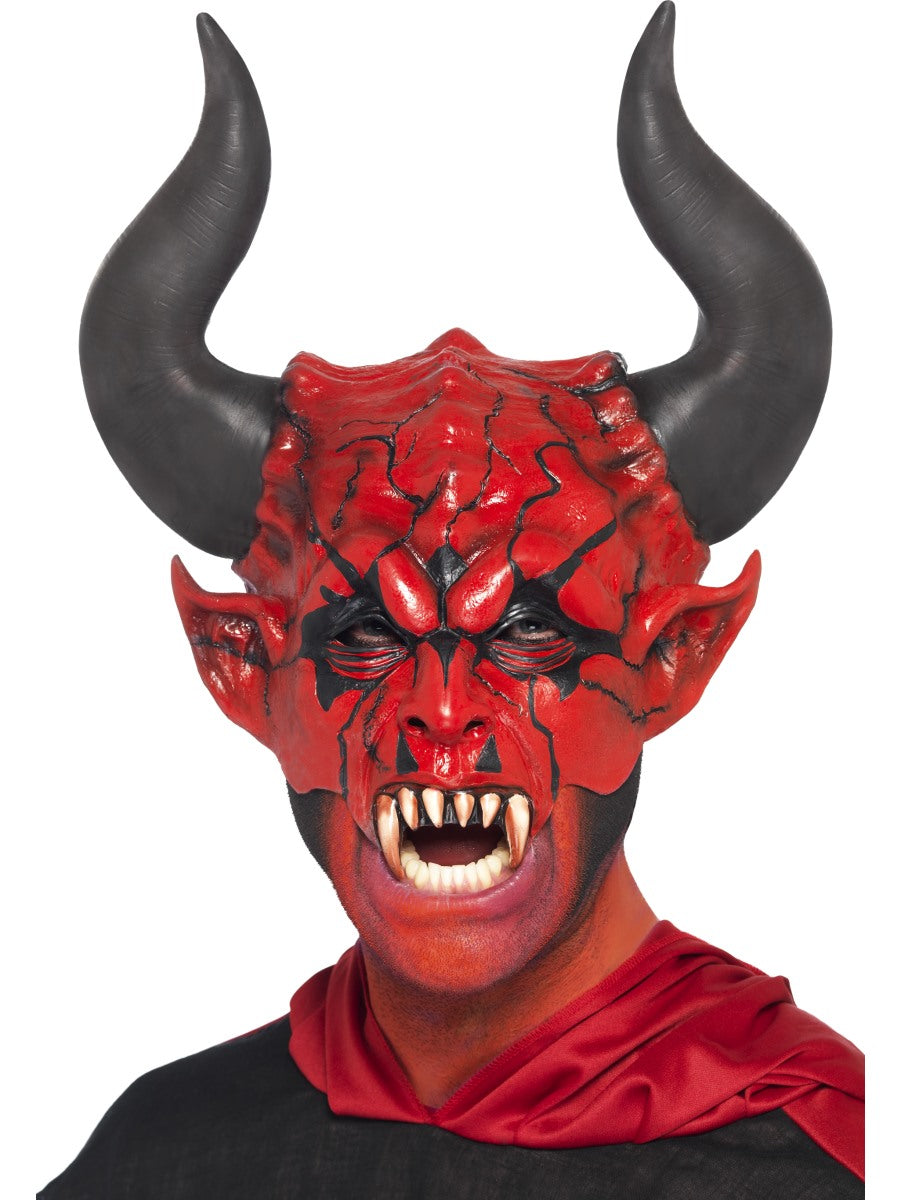 Devil Lord Mask, Red
Regular price
£17.99
/
Tax included.
---
Free shipping on all orders over £15
In stock, ready to ship

Inventory on the way
Shipping & Returns Policy
99.7% of Orders Received on Time!
Our superior service ensures 99.9% of orders placed before 2:00 pm Monday – Friday leave the Mad World warehouse the same working day with 99.7% of parcels sent with Royal Mail delivered on time and without incident.
To improve on communication & delivery service further we have implemented a New 5 Point Track & Trace Service (Real Time). For your peace of mind all parcels will require a signature upon receipt.
Royal Mail 48 Hour: 2 - 4 Working Days (Usually 2 days)
Royal Mail will deliver your order between 7:00am to 5:00pm between Monday - Saturday. For convenience parcels can be tracked from dispatch to doorstep with the New 5 Point Track & Trace Service
• £3.99 per order
• Delivery within 3 days
• NEW 5 point tracking service with SMS text and/or email alerts.
• Redelivery or collection available free of charge if you're out during delivery.
• Safe and secure recorded delivery
• Up to 5 kg
• 100% UK coverage
• Insured up to £46 for lost or damaged goods.
Royal Mail show 97.5% delivery success rate within two days however this is not guaranteed.
Royal Mail 24 hour - upto 2 Working Days (Usually Next Day)
Royal Mail's Priority Tracked Service delivers your order within 2 working days between 7:00am to 5:00pm between Monday - Saturday. For convenience parcels can be tracked from dispatch to doorstep with the New 5 Point Track & Trace Service
• £6.99 per order
• Delivery within 2 days
• NEW 5 point tracking service with SMS text and/or email alerts.
• Redelivery or collection available free of charge if you're out during delivery.
• Safe and secure recorded delivery
• Up to 5 kg
• 100% UK coverage
• Insured up to £46 for lost or damaged goods.
Royal Mail show 99% delivery success rate within two days however this is not a guaranteed service.
BFPO: British Forces Post Office
We are a supporter of British service personnel serving overseas and offer and excellent BFPO service. We are capable of delivering to BFPO address holders across the world via our dedicated Royal Mail & British Forces Postal Service. Parcels are delivered to the BFPO Mill Hill dispatch centre in London via our premium delivery service and than onto your final delivery destination via the BFPO delivery network.
Please note that parcels only have tracked and guaranteed delivery times when within the UK. Once the parcel has entered the BFPO network we do not have the ability to track it and encourage customers to allow a reasonable time frame to receive their parcels, especially when stationed outside the EU zone. Please visit the BFPO website if you require more information regarding this service.
New 5 Point Track & Trace Service (Real Time)
Track and Trace is a new Royal Mail service that makes it easy for you to trace the progress of your order from dispatch though to delivery via real time SMS texts, email notification and unique tracking number. The 5 steps are outlined below:
• Dispatched: Your order is collected from our warehouse.
• At Sorting Centre: Your order is sent to the Royal Mail sorting centre.
• At Local Depot: Your order has arrived at Royal mail depot.
• Out for Delivery: Email and SMS message sent to notify of impending delivery.
• Successfully Delivered (signed for), or Unable to Deliver: Email and SMS message notifying successful delivery or, alternatively if absent, a message informing you how to arrange redelivery or collection from your local depot.
To benefit from the New 5 Point tracking service we request that you leave an authentic email address and mobile phone number in order to receive real time delivery information from Royal Mail.
General Shipping Important Information
All items purchased from Mad World Fancy Dress are made pursuant to their shipment contract.
All tracked delivery is insured up to £46 and express delivery up to £500.
For further information regarding our delivery services see Royal Mail or Parcel Force, if using a courier delivery option. Parcels are sent from our warehouse by Royal Mail or by selected courier. If you require additional cover or have a question regarding your delivery method please message us via our contact page.
Please note that for bulk or heavy orders sent using UK Recorded Signed, UK Special Delivery, or international courier delivery options we reserve the right to upgrade shipment of your order and may ask for additional monies to cover increased postage costs if and when applicable. You will be contacted regarding any additional postal charges before dispatch.
Please note if you choose the Saturday delivery option and are having a parcel delivered to your workplace please ensure that a member of staff will be available to sign for your parcel.
Unless otherwise stated delivery times are an estimate. 
For orders outside the EU duty may be payable at import. This is a cost bourne by the customer. 
Please Note: During busy periods it can take upto 24 hours longer for items to be despatched. This includes halloween.
Mad World Return Policy
Your satisfaction is our primary objective.
We believe in our costumes, we believe that our goods must live up to your highest expectations and that our service must live up to the same quality. Our staff is always happy to advise and to help you select the best products to suit your requirements.
If for some reason you need to return part, or all of your order, it is easy. Simply follow the guide outlined below. All returns are acknowledged by email or phone and refunds will be credited back to your accounts via the original payment method.
Can I return my costume?
Yes, you can return unworn and unwashed costumes to us within 14 working days of receiving your order. Our costumes are sold in resealable packaging, which allows you to check suitability. When making a return we request that your purchase is returned to us in its original condition together with the original packaging. At Mad World customer care and costume quality are our number one objectives. If you have a problem with one of our costumes please don't hesitate to call or email us and we will do our utmost to solve your problem. 
Instructions for returning merchandise
When returning you order please ensure the following information is placed in the parcel so we can identify your return:
1. Billing Name.
2. Order Number (you will find this in your order confirmation email)
3. Postcode and the reason that you are returning your order.
4. Customers should use 2nd class singed for delivery to ensure that orders are returned to us without incident. 
Failure to provide this information may result in a delay towards the issue of the refund.
Please return your items to: Mad World Fancy Dress RETURNS, 69 - 85 Tabernacle St, Singer St, London EC2A 4BD
Refund Policy Exclusions
* Please note that we work in full accordance with the Distance Selling Regulations Act (2000) and we respect and adhere to all of your customer rights in compliance with this Act. 

We do not refund items that have been worn, washed or soiled. Additionally for hygienic reasons all sales on the following items are final and not eligible for return: makeup, eyelashes, tights, stockings, wigs, contact lenses, underwear, and masks. Some costumes have sealed wigs if this is the case, and the costume is not appropriate, please do not open the bag containing the wig as once it has been opened a refund cannot be provided.
* In accordance with the Distance Selling Regulations Act we will not refund the customers cost of postage to return a product to us - unless this product is proven to be faulty.   
Liability
Mad World, it's employees, and directors shall be under no liability to any defect arising from; fair wear and tear, negligence, or abnormal working conditions. This liability disclaimer does not affect your rights as outlined by the Sale of Goods Act of 1979.
Late Delivery
If the merchandise arrives too late for your event, please refuse delivery for the parcel and it will be returned to the Mad World Warehouse. Alternatively if you have already received or signed for your parcel you can return it using the instructions outlined above. If Mad World, or our couriers are at fault in anyway we will refund the full cost of the Merchandise + P&P. There are some circumstance when neither Mad World nor the couriers acting on our behalf are at fault, for example; if the customer has selected an incorrect delivery address, postage option, or was absent during delivery. If this is the case and the customer wishes to return their order they will be refunded in full for the total value of the merchandise minus the cost of postage paid.
Cancelling an order before payment
You can cancel an order at any time before submitting payment and do not need to contact us regarding cancelling orders that have not been paid for. We ignore all orders without a matching payment transaction. So, if no payment has been submitted you do not have to worry about us processing your transaction.
Cancelling an order after payment
We are unable to cancel an order after payment has been received. Mad World operates with a very quick turn around so we can get your order processed, picked, packed and shipped to you on the same day. This speedy process ensures that 99.7% of our orders are received on time and without incident. After payment has been submitted we are unable to cancel, alter, add or remove items from your order. If you have submitted an order and no longer want the costume you can refuse delivery, or send the unopened costume back to our dispatch centre where you will be entitled to a refund.
Disputed Items
Any returned merchandise which is received not in accordance with the terms outlined in our returns policy will be defined as "Disputed". Disputed items will not be refunded or exchanged and a reason for this decision will be provided to the customer. We are happy to return disputed items back to the customer, otherwise they will be destroyed within 91 calendar days upon reciept at our Warehouse.
Disclaimer
Product images displayed on Mad World Fancy Dress are supplied by the costume manufacturers, these images may vary slightly from the actual costume. Our suppliers reserve the right to make changes to the products at any given time without previous warning. However, these changes should not interfere with the quality or the general concept of any of the items in question. 
Contact Us
If you have any questions or concerns regarding a potential refund please contact us using the contact us form on the website.