He's getting married in the morning.......
June 13 2014
It's that time of year. Stag and hen do season!
Also known as a bachelor party or buck's night, the stag do is the opportunity for the best man and friends to send the groom into married life with one last wild night (or, more often, a whole weekend!) to remember! The best man often visits our stores looking for the most embarrassing, unflattering, horrible costume to dress the stag in. However, some are kinder and choose a general theme for the whole group to join in with. If you're in charge of organising the festivities, here are some ideas.
We'll begin with the themes which will work for everyone. For instance, if the father of the bride is invited or the groom prefers not to have a crude theme.
Pub Golf : Essentially a more complex form of pub crawl, Pub Golf involves mapping a route of nine or eighteen "holes" (i.e. pubs) as well as other rules and games loosely based on the real game of golf. Traditional golf attire is essential here - think sun visors, tartan tank tops, shorts, Argyll socks. Clubs are not necessary for this version of golf, there will be a lot of drinking involved and it's best not to bring along anything that can be used as a weapon!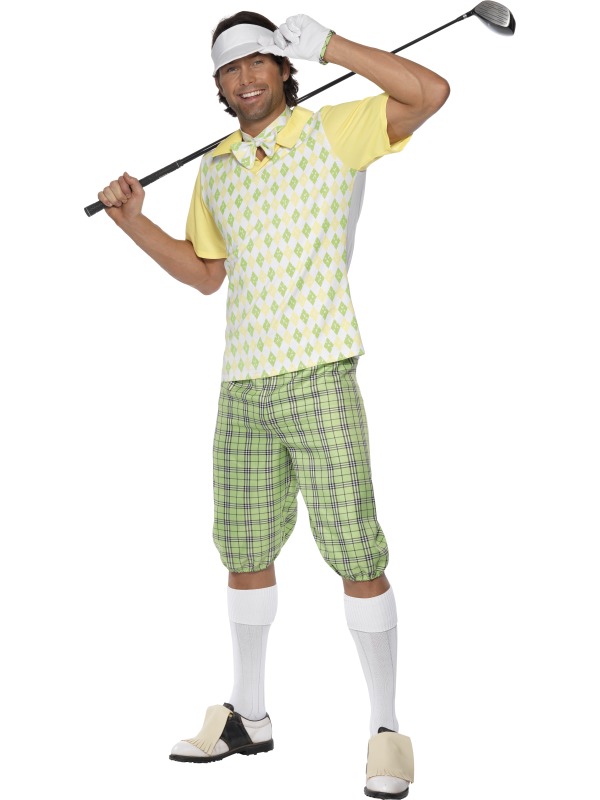 Monopoly Board Pub Crawl Similar to pub golf, albeit more London centric (unless you're the proud owner of one of the more limited edition boards based on other cities such as Liverpool, Glasgow or even Bradford!). The aim is to visit a pub and have a drink at every space on the board. Few make it to Mayfair! This is a good theme as it allows a lot of choice of fancy dress e.g: "Angel" Islington
Pentonville Road - Prisoner 
Fleet Street - Journalist/Reporter
Trafalgar Square - Nelson
Liverpool Street - Scouser
King's Cross - King
Bond Street - James Bond
Pirates This is a good theme if you live by the sea! Dressing as a pirate also gives you the perfect excuse to drink lots of rum/grog and misbehave!
Willy Wonka & Oompa Loompas This one is also related to Johnny Depp, that man is prolific! This is a good theme if the stag likes to be centre of attention and the rest of the group don't mind looking sillier than the main man.
Other "safe" ideas include school disco, gangsters/pimps, Wild West,  police & convict (ball n chain etc), classic films such as Top Gun, Ghostbusters, Batman/general superheroes, 1970s/80s/90s....
Now we come to the more, ahem...."risqué" ideas. We must confess these are more popular than the safe options!
Dirty Old Lady - Smiffys Gravity Granny costume
Pamela Anderson/Baywatch - Smiffys Baywatch Drag Costume
Smiffys Baywatch Second Skin. Also available in "male"
Smiffys Gimp Costume 
Smiffys "Muff Diver"
 True Scotsman - Smiffys Hung Highlander Costume
Big Baby
What would you choose for you and your friends? Do you prefer offensive or more traditional fancy dress for Stag Parties?