Festival Season Begins
May 23 2013
It doesn't seem like long since the last Bank Holiday weekend.....because it wasn't! Even though the weather has been disappointingly grey and grim this month, at least we have two long weekends to enjoy.
As May draws to an end and we look forward to the summer months (and summer weather), festival season kicks off.  East London's Victoria Park hosts two all day festivals this weekend, hipster heaven Field Day and new LGBT celebration As One In The Park. 
Field Day, back for it's seventh year in the park features an eclectic line up of popular indie bands such as Toy, Palma Violets, Animal Collective, Bat For Lashes as well as plenty of new talent you will be seeing in the NME in the future.
New for 2013's festival calendar is As One In The Park, created by Orange Nation, the UK's biggest gay clubbing promotions company. Featuring chart bothering pop acts such as Rita Ora, Conor Maynard, Katy B, ex X-Factor hopefuls Rylan and Union J and legends Holly Johnson & Boy George, it looks like this one-dayer will be one of the biggest gay events of the year!
The great thing about city festivals is there is no need for camping, so you can enjoy the freedom and fun of a festival but go home at the end of the night for a shower and a real bed! Why not make the most of the festival vibe by going all out with neon face paints, head-dresses, crazy sunglasses, animal onesies and even festival fave - the morphsuit!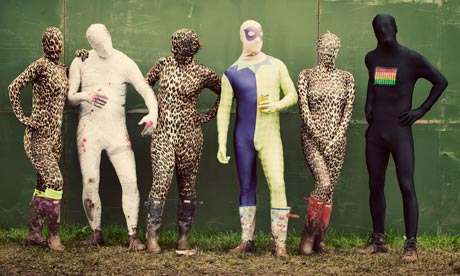 Photo: The Guardian/Observer
Photo: Cosmopolitan